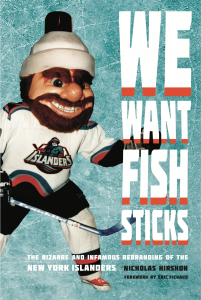 We Want Fish Sticks: The Bizarre and Infamous Rebranding of the New York Islanders, published by the University of Nebraska Press in 2018, tells the colorful story of the worst branding effort in sports history. In 1995, the National Hockey League's New York Islanders abandoned their original logo, which featured the letters "NY" and a map of Long Island, in favor of a fisherman. During a rebranding process that lasted three torturous seasons, the Islanders unveiled a new mascot, new uniforms, new coach, new players, and new owner that were supposed to signal a return to glory. Instead, the team and its fans endured a twenty-eight-month span more humiliating than what most franchises witness over twenty-eight years.
Watch Nicholas Hirshon discuss We Want Fish Sticks on News 12 Long Island.
Buy We Want Fish Sticks on Amazon.
Like We Want Fish Sticks on Facebook.