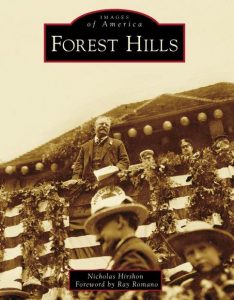 Images of America: Forest Hills, published by Arcadia Publishing in 2013, examines the New York City neighborhood that became synonymous with the U.S. Open tennis tournament, which was hosted there for six decades. Featuring a foreword by comedian Ray Romano, the book traces the history of the area from the founding of America's first garden city in 1909 to a controversy over public housing in the 1960s and 1970s. The book opens with the story of a fiery speech by former President Theodore Roosevelt, delivered at the Forest Hills railroad station on the cusp of America's entry into World War I.
Watch Nicholas Hirshon discuss Forest Hills on Queens Public Television.
Buy Images of America: Forest Hills on Amazon.
Like Images of America: Forest Hills on Facebook.