From August to December 2010, Nicholas Hirshon wrote a seven-part series for the New York Daily News named "Queens Heritage Quest," advocating for historic markers and trails to mark significant sites in the New York City borough of Queens.
First Installment: Hidden Gems
Published August 17, 2010
Queens, whose rich history can be traced from the Dutch settlers to the American Revolution to world's fairs, has witnessed many moments of global significance through the centuries.
But a paucity of historical markers in the borough means that many notable sites exist in anonymity, with no visible indication of the trailblazing events that happened there.
As a result, residents stroll past these spots unaware of the momentous legacy of their neighborhoods – while Queens misses out on tourism opportunities that have proved profitable elsewhere in the country.
Shedding light on oft-overlooked treasures, Queens News starts a series today chronicling some of the borough's most underappreciated historic sites.
Preservationists argue that Borough Hall, including new borough historian Jack Eichenbaum, can prove its commitment to local heritage by posting signage or creating brochures for the spots that will be profiled in these pages.
Eichenbaum sparked a debate over the role of a borough historian last month when he told The News that he wants to be an "educator" rather than fight to landmark buildings.
"I don't see myself championing those types of causes," Eichenbaum said at the time.
Eichenbaum was criticized but defended his approach, emphasizing his efforts to educate children about Queens history and vowing to refer landmarking causes to more "passionate" advocates.
The exchange spawned many ideas on how Eichenbaum, Borough President Helen Marshall and Queens tourism director Terri Osborne could honor local legacy even without landmarking.
For starters, historians say signage may encourage residents to take an interest in Queens' past.
"It can be a very effective way of explaining to passersby the transformation in New York's development," said Simeon Bankoff, the executive director of the Historic Districts Council.
Such efforts, advocates contend, may boost Queens tourism, inspire groundbreaking research and stir public interest in the borough's past.
If the sites were grouped into themes, such as the popular Flushing Freedom Mile and Queens Jazz Trail, they might be even more successful in luring visitors.
"People are more likely to be advocates of preservation or conservation if they know what has been there before," said Marci Reaven of Place Matters, which builds an online inventory of the city's historic places, sometimes followed by signage.
But respecting such sites would not merely increase regional awareness of borough gems.
Experts say Queens tourism can also benefit from historical markers, accompanied by pamphlets or podcasts to link the notable spots.
It's a mostly untapped means of pumping revenue into the borough's economy. If visitors at airport hotels stay in Queens to explore historic sites, for example, they may eat and shop nearby.
"When you create experiences that will either draw people to your area or will encourage them to stay longer in your area, that's bound to increase their expenditures," said Amy Webb of the National Trust for Historic Preservation.
Jack Friedman of the Queens Chamber of Commerce admitted that the borough's leaders "just don't take advantage" of the potential for historic tourism.
In the weeks to come, Queens News will present several arguments that may help correct that oversight.
SIDEBAR: New Medium is Big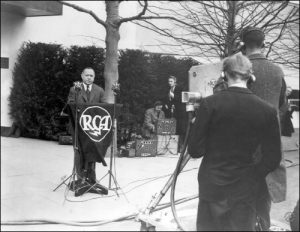 Sparking a media revolution at the 1939 World's Fair, industry titan David Sarnoff unveiled television with his milestone broadcast from Queens to Manhattan.
But the spot where Sarnoff introduced a groundbreaking invention lacks a historical marker – its link to the momentous event going unheralded in Flushing Meadows-Corona Park.
"It was a turning point in the history of communications, and now we take it for granted," said World's Fair expert Pierre Montiel while roaming the park.
Preservationists want historical signage near the overlooked Sarnoff site – which is on the edge of the National Tennis Center.
They say that marking the spot would prove the borough's commitment to noting its long-lost landmarks, while boosting civic pride and tourism in Queens.
"A plaque there would be nice," said Alex Magoun, executive director of the David Sarnoff Library in Princeton, N.J.
Borough President Helen Marshall told Queens News last week that she would meet with signage supporters and park officials to discuss the proposal. "Have them come," she said. "We'll talk with them."
Sarnoff, the president of the Radio Corp. of America, had been planning the unveiling for years before stepping to a podium with two microphones in 1939.
"Now we add radio sight to sound," he said from the garden behind the RCA Exhibit Building. "It is with a feeling of humbleness that I come to this moment of announcing the birth in this country of a new art so important in its implications that it is bound to affect all society."
Eight miles away, a crowd of about 100 in Radio City watched Sarnoff yield to remarks by other broadcasting pioneers – including Vladimir Zworykin, a famed television tinkerer.
A handful also witnessed the proceedings on experimental sets in their homes, according to Sarnoff biographer Eugene Lyons. The New York Times marveled the next day that "even the fleecy texture of the clouds" appeared distinctly on the sets, as did the fair's towering centerpieces, the Trylon and Perisphere.
"You could actually see what was going on instead of trying to visualize," said Geoff Bourne of the Museum of Radio & Technology in Huntington, W. Va.
RCA, of course, relished the publicity as a marketing tool.
Sarnoff said during the broadcast that NBC would "begin the first regular public television program service in the history of our country" days later on April 30.The Times reported that RCA's sets would be available May 1.
In the months following Sarnoff's landmark talk, the RCA exhibit continued to awe the public with television units in elaborate wooden cabinets, including a set with a 7-inch-by-10-inch screen.Sales would not spike until after World War II, but Lyons noted the "epochal date" in Queens.
He wrote, "Television for the home, though forced to linger in the laboratories some seven years more, was born that day and announced to the world by its proud and worried 'father.'"
SIDEBAR: No Shortage of Artifacts
If Queens ever runs an exhibit on television's debut, collectors vow to loan memorabilia such as an aging set that dazzled visitors to the 1939 World's Fair.
An East Rockaway man said he would temporarily part with the antique TV, which has been a family heirloom ever since his great-grandfather bought it from RCA's pavilion when the expo closed.
"I wouldn't mind that," said Chris Korzevinski, 46.That's just one artifact available for a potential display on the long-demolished RCA Building.
Steve McVoy of the Early Television Museum in Hilliard, Ohio, said he would loan the chassis of another TV as well as a souvenir card given to the RCA exhibit's visitors.
The unique card urged patrons to "tell your friends about what you have seen, and pass on to them some of your enthusiasm."
SIDEBAR: Turned 'Em Onto TV
Miss Television is on a mission.
A 94-year-old actress who introduced the public to television at the 1939 World's Fair doesn't understand why Queens never posted a historical marker by the site of the RCA Exhibit Building.
Phyllis Jeanne Creore has offered to loan one-of-a-kind photographs from her days as "Miss Television" at the RCA display for a tribute to the milestone broadcast that took place there.
"If they want any of them, if it'll help them, it's fine," Creore said recently while admiring a mix of aging pictures and newspaper articles in her Manhattan apartment.
Creore cemented her place in TV lore after impressing RCA bigwigs during a casting call more than 70 years ago at the company's headquarters in Radio City.
RCA picked Creore, described by an upstate reporter as a "vivacious young miss," to help launch its television marketing campaign at the upcoming World's Fair.
She regularly rode the subway in the summer of 1939 on her way to RCA's building. Once there, Creore unveiled the corporation's latest invention to the masses.
"I'd say, 'Welcome to the RCA Building, NBC. You're here to see all the wonderful new televisions we have,'" she recalled.
The job also required Creore to explain how the medium worked. "If anyone came and asked a question, hopefully I could answer them," she said.
RCA even employed the attractive hostess in demonstrations of TV's astonishing potential.
Standing in a garden behind the building, she interviewed governors, Broadway celebrities and movie stars who journeyed to the fair. She also asked strangers if they were enjoying the exhibit.
Creore's chats were transmitted over 100 yards of coaxial cable to 20 indoor sets for a packed viewing audience, according to a 1939 article in the Rochester Democrat and Chronicle.
Though she earned just a "pittance," Creore loved her work. "It was all new to me," she said recently. "It was a wonderful job."
Second Installment: A Living Past
Published August 24, 2010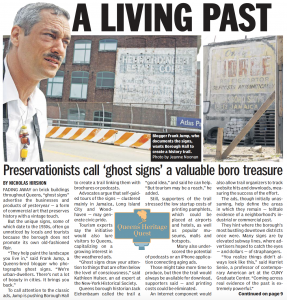 Fading away on brick buildings throughout Queens, "ghost signs" advertise the businesses and products of yesteryear – a form of commercial art that preserves history with a vintage touch.
But the unique signs, some of which date to the 1930s, often go unnoticed by locals and tourists because the borough does not promote its own old-fashioned flair.
"They help paint the landscape you live in," said Frank Jump, a Queens-bred blogger who photographs ghost signs. "We're urban-dwellers. There's not a lot of beauty in cities. It brings you back."
To call attention to the classic ads, Jump is pushing Borough Hall to create a trail linking them with brochures or podcasts. Advocates argue that self-guided tours of the signs – clustered mainly in Jamaica, Long Island City and Woodhaven – may generate civic pride.
Tourism experts say the initiative would also lure visitors to Queens, capitalizing on a growing interest in the weathered ads.
"Ghost signs draw your attention to things that are often below the level of consciousness," said Kathleen Hulser, an ad expert at the New-York Historical Society.
Queens borough historian Jack Eichenbaum called the trail a "good idea," and said he can help. "But tourism may be a reach," he added.
Still, supporters of the trail stressed the low startup costs of printing pamphlets, which could be placed at airports and hotels, as well as popular museums, malls and hotspots. Many also underscored the potential of podcasts or an iPhone application connecting aging ads.
Those might take more time to produce, but then the trail would always be available for download, supporters said – and printing costs could be eliminated. An Internet component would also allow trail organizers to track website hits and downloads, measuring the success of the effort.
The ads, though initially unassuming, help define the areas in which they remain – telltale evidence of a neighborhood's industrial or commercial past. They hint where the borough's most bustling downtown districts once were. Many signs are by elevated subway lines, where advertisers hoped to catch the eyes – and dollars – of straphangers.
"You realize things didn't always look like this," said Harriet Senie, a professor of contemporary American art at the CUNY Graduate Center. "Coming across real evidence of the past is extremely powerful."
The signs also include references to long-lost Queens culture.
A Middle Village sign bills dining, dancing and bowling – and contains the bygone Havemeyer telephone exchange, used from 1930 into the 1950s.
A smokestack in Ridgewood, meanwhile, bears vertical lettering for Bohack, a chain of supermarkets that once boasted citywide stores but was shuttered in 1977.
"It is a contributing element in telling the history and design of a building," said Cynthia Howk of the Landmark Society of Western New York. "It pulls people [in], gives an additional interest."
Other ghost signs promote national brands – some defunct, some still powerhouses – like Imported Guinness in Long Island City, Norge Refrigerator in Jamaica and Rubie's Costume Co. in Richmond Hill.
"Some people are reminded of the companies where their parents or grandparents worked," said Erin Tobin, a regional director for the Preservation League of New York State.
While Jump noted an ad above nondescript Woodhaven shops, he reflected on the trail as a way to highlight the signs – undervalued glimpses into the borough's past.
"It would definitely bring into light a side of Queens that might not necessarily be evident," he said. "It's kind of like a fingerprint on who first settled this area."
SIDEBAR: How to Give 'Ghosts' Substance

Advocates of a ghost sign trail in Queens are already garnering kudos – and valuable advice – from experts who helped restore fading ads across the country.
Citing growing public interest in the ads, Tod Swormstedt of the American Sign Museum in Cincinnati said the jump to a Queens tour is "not a very big leap."
"This is already a kind of movement that's happening in attracting tourists," he said.
Local tourism experts said that a Queens trail should follow successful models that pitch the city's unusual attractions over its most commonly visited landmarks.
Tourism is "definitely trending towards 'off the beaten path,'" said Gabriel Schoenberg, who runs a series of citywide graffiti walks.
While all ghost sign admirers contacted by Queens News supported the trail, there was some disagreement over how to preserve the ads. Many favor carefully repainting the ghost signs, allowing faint text to come alive again. That approach was embraced in St. Louis, for example, where fading ads pitching beer and flour regained their colorful vitality.
Appreciation for the signs also runs deep upstate, in Rochester. "These signs evoke a real sense of nostalgia," said Rochester city historian Christine Ridarsky. "It's a tangible way for people to look back on the commercial past."
Elsewhere in New York, preservationists successfully relied on an ad's maker to fund the restoration of a ghost sign in 1993. In Brockport, Procter & Gamble paid to repaint one of the corporation's first marketing campaigns – a distinct 1880s sign for Ivory Soap, said the building's owner, Darlene Trento.
Similarly, preservationists said, Queens could try to fund repainting of its ghost signs by contacting the companies with faint ads on the borough's streets.
Others note that repainting a sign actually replaces it rather than conserving the original art, the faded look of which proved the sign's age and made it unique. That camp argues for re-adhering flaking paint instead.
Though opinions differ on how to best respect the ads, an entry on the website of the National Park Service stresses their importance.
"Preserving historic signs is not always easy," the website states. "But the intrinsic merit of many signs, as well as their contribution to the overall character of a place, make the effort worthwhile."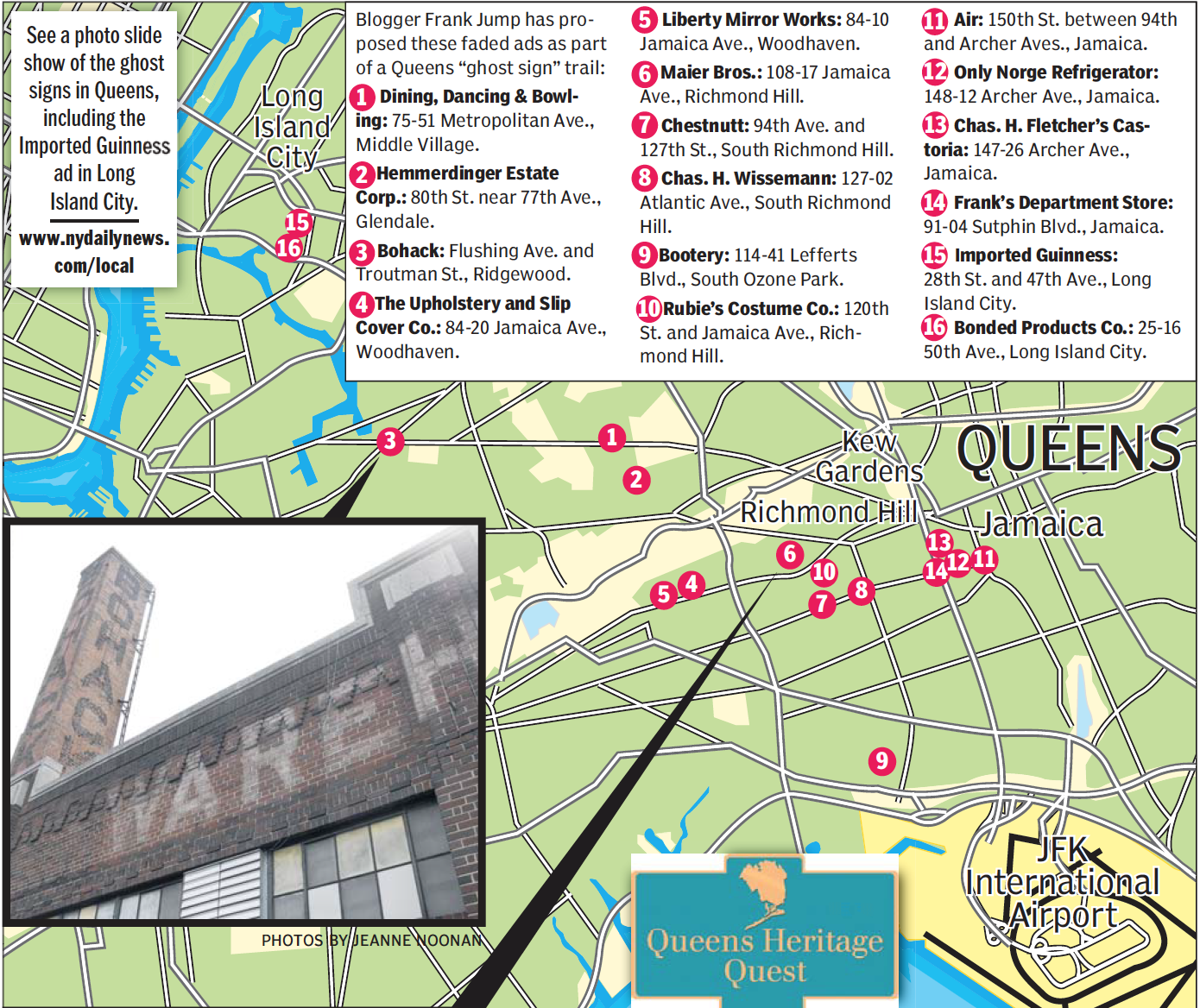 SIDEBAR: Boro Prez Gets Behind Efforts
It's a hit!
Borough President Helen Marshall hailed the Queens Heritage Quest series after Queens News ran its first installment last week – hinting she would help fund efforts to recognize overlooked sites.
"I love this idea," Marshall said in a statement."I will be happy to work with the Daily News, our borough historian and our local historical societies in a combined effort to preserve our history even more."
Marshall spokesman Dan Andrews cautioned that installing historical markers requires startup cash and "a lot of cooperation" from property owners. But he also expressed willingness to work with Queens News and local preservationists.
The series began last Tuesday with calls for signage at the spot where RCA dramatically unveiled television to the American public during the 1939 World's Fair.
Queens News outlined arguments for a marker to recognize the location of the long-demolished RCA Exhibit Building – at the edge of the site of the National Tennis Center in leafy Flushing Meadows-Corona Park.
Marshall seemed keen on paying tribute. "Perhaps, the site where the RCA building once stood would be a great jumping off location for this campaign," she said.
Third Installment: Filmed in Our Backyard
Published August 31, 2010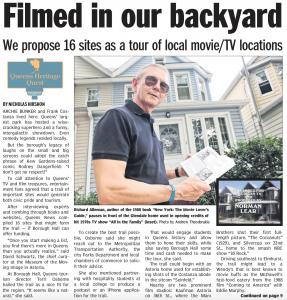 Archie Bunker and Frank Costanza lived here. Queens' largest park has hosted a wisecracking superhero and a funny, intergalactic showdown. Even comedy legends resided locally.
But the borough's legacy of laughs on the small and big screens could adopt the catch phrase of Kew Gardens-raised comic Rodney Dangerfield: "I don't get no respect!"
To call attention to Queens' TV and film treasures, entertainment fans agreed that a trail of important sites would generate both civic pride and tourism.
After interviewing experts and combing through books and websites, Queens News compiled 16 sites that might form the trail – if Borough Hall can offer funding.
"Once you start making a list, you find there's more in Queens than you actually realize," said David Schwartz, the chief curator at the Museum of the Moving Image in Astoria.
At Borough Hall, Queens tourism director Terri Osborne hailed the trail as a nice fit for the region. "It seems like a natural," she said.
To create the best trail possible, Osborne said she might reach out to the Metropolitan Transportation Authority, the city Parks Department and local chambers of commerce to solicit their advice.
She also mentioned partnering with hospitality students at a local college to produce a podcast or an iPhone application for the trail. That would engage students in Queens history and allow them to hone their skills, while also saving Borough Hall some time and cash needed to make the tour, she said.
The trail could begin with an Astoria home used for establishing shots of the Costanza abode in the sitcom "Seinfeld." Nearby are two prominent film studios: Kaufman Astoria on 36th St., where the Marx Brothers shot their first full-length picture, "The Cocoanuts" (1929), and Silvercup on 22nd St., home to the smash NBC show "30 Rock."
Driving southeast to Elmhurst, the trail might lead to a Wendy's that is best known to movie buffs as the McDowell's fast-food eatery from the 1988 film "Coming to America" with Eddie Murphy. At the restaurant – a parody of McDonald's – Prince Akeem Joffer (Murphy) of the fictional African nation Zamunda and his servant Semmi (Arsenio Hall) thwart a stickup man (Samuel L. Jackson).
Next, the tour could journey to Glendale for the famed "All in the Family" home, which appeared in the opening credits of the groundbreaking 1970s series.
The show's producer, Norman Lear, was quoted in The New York Times as saying that he picked the home "because it exudes pride of ownership, though there's no garden or picket fence."
Next up are the former homes of Golden Age legends. Charlie Chaplin reportedly bought a Kew Gardens house in 1919, and the Marx Brothers resided in Richmond Hill in the 1920s.
Hungry tourists would eat up another stop: the Lemon Ice King of Corona, which was shown in the opening montage of the Kevin James sitcom "King of Queens."
Blocks away is Flushing Meadows-Corona Park and the Unisphere, featured in "Men in Black" (1997) and "Iron Man 2" (2010). In the former, Tommy Lee Jones and Will Smith play color-coordinated agents who elicit chuckles while chasing an alien up the New York State Pavilion.
The trail's followers could end their journey on a more romantic note – with dinner at Valentino's on the Green in Bayside, once the mansion of celluloid sex symbol Rudolph Valentino.
"It could be a great tour," said Richard Alleman, author of the 1988 tome "New York: The Movie Lover's Guide." "I found more than I expected [in Queens] when I wrote the book."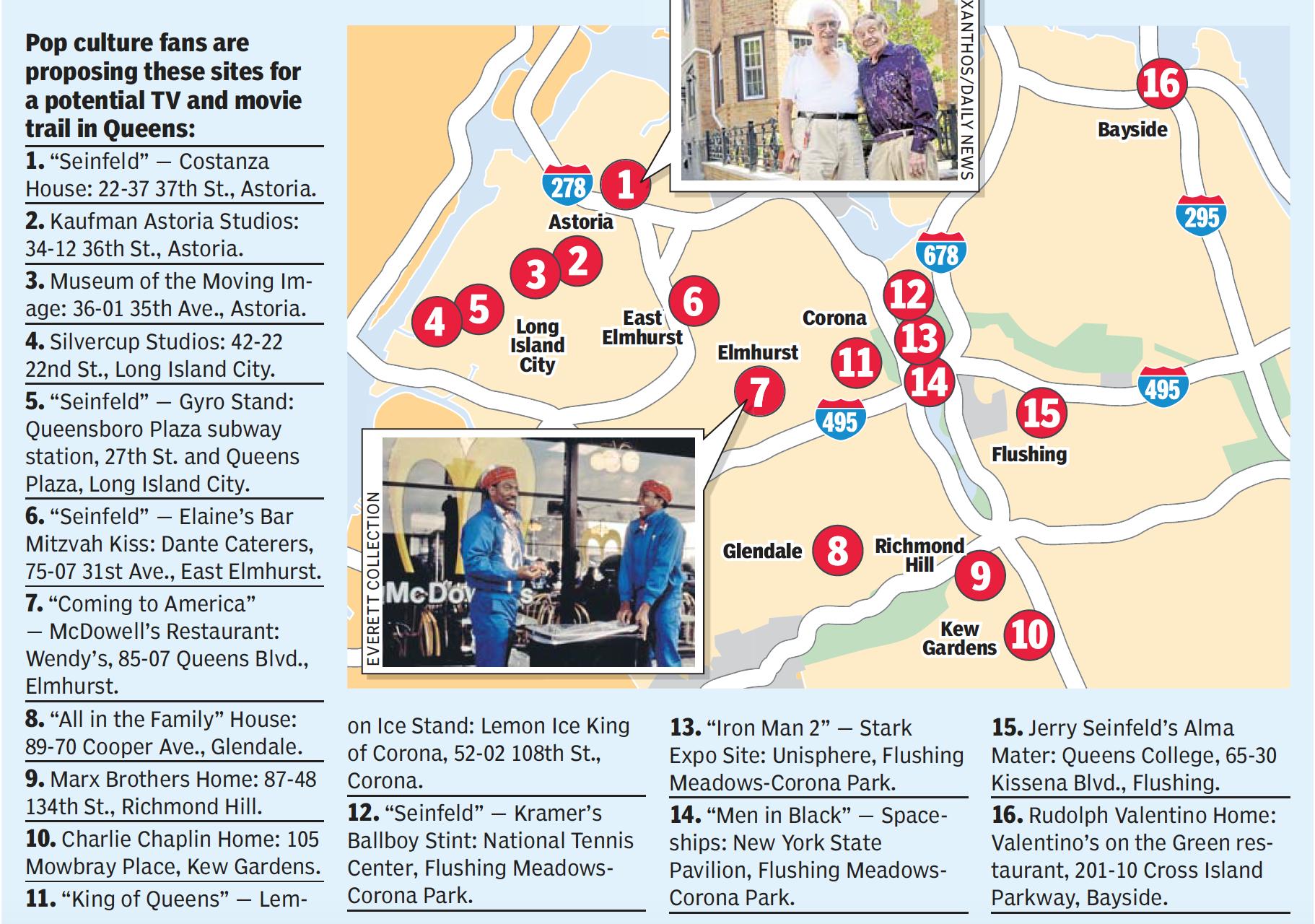 SIDEBAR: Reaction to News' Proposed Ghost Sign Trail is Out of This World
We reported and you replied.
Readers flooded Queens News with phone calls, emails and Web comments after our Queens Heritage Quest stories last week on a potential ghost sign trail linking fading ads with brochures or a podcast.
Locals identified many ads that they believe should join blogger Frank Jump's list of 16, which he envisions as the basis for a trail.
The staff at Lilien Hardware in Long Island City noted an ad for a pawn shop and another hawking TV sets on Queens Blvd. between 47th and 48th Sts. A few miles southeast, in Middle Village, Kathy Henn was letting her nails dry at a salon when she spotted a drugstore sign at 73rd Place and Metropolitan Ave. And Rob Hart of Long Beach, L.I., sent a cell phone photo of his favorite ad – billing Martin & Sons spice importers along the elevated tracks in Jamaica – but added that it since has been painted over.
It's a reminder that ghost signs fade away gradually and are often painted over, advocates say, so passersby should appreciate them during their fleeting existence.
Proponents of a ghost sign tour soon may be able to pitch their plans to a powerful audience. Borough historian Jack Eichenbaum said he will invite Jump to an Oct. 28 conclave of preservation groups at Borough Hall.
Fourth Installment: Patriot Act in Hollis
Published September 28, 2010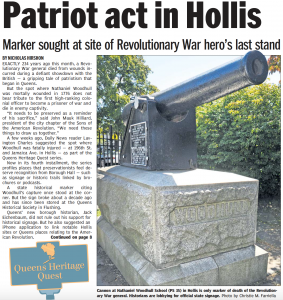 Exactly 234 years ago this month, a Revolutionary War general died from wounds incurred during a defiant showdown with the British – a gripping tale of patriotism that began in Queens.
But the spot where Nathaniel Woodhull was mortally wounded in 1776 does not bear tribute to the first high-ranking colonial officer to become a prisoner of war and die in enemy captivity.
"It needs to be preserved as a reminder of his sacrifice," said John Mauk Hilliard, president of the city chapter of the Sons of the American Revolution. "We need these things to draw us together."
A few weeks ago, Daily News reader Lavington Charles suggested the spot where Woodhull was fatally injured – at 196th St. and Jamaica Ave. in Hollis – as part of the Queens Heritage Quest series.
Now in its fourth installment, the series profiles places that preservationists feel deserve recognition from Borough Hall – such as signage or historic trails linked by brochures or podcasts.
A state historical marker citing Woodhull's capture once stood at the corner. But the sign broke about a decade ago and has since been stored at the Queens Historical Society in Flushing.
Queens' new borough historian, Jack Eichenbaum, did not rule out his support for historical signage. But he also suggested an iPhone application to link notable Hollis sites or Queens places relating to the American Revolution.
Locals agreed on paying tribute to Woodhull.
"What happened to him is a lesson for every one of us," said Bob Singleton, president of the Greater Astoria Historical Society. "That dream that Woodhull stood for is alive and well whenever I walk around Queens."
Woodhull, president of the Provincial Congress of New York, was assigned to steer cattle east to Long Island – and away from the British – when he stopped at a tavern in Queens on Aug. 28, 1776.
From there, the narrative gets sketchy.
Tradition describes a dramatic scene during which Woodhull encountered British forces and soon surrendered his sword. An officer then ordered Woodhull to proclaim, "God save the king."
"God save us all!" Woodhull responded.
The officer, sometimes identified as Capt. James Baird, slashed Woodhull with a saber – delivering multiple blows that led to his death in captivity about a month later on Sept. 20.
But a different story emerged in 1951 when The New York Times ran a front-page article in which researcher W.H.W. Sabine doubted the compelling exchange.
Sabine cited a dusty scrapbook with Woodhull's own account of the capture – apparently given to a lieutenant who was with him in a prison camp when he died.
Woodhull supposedly said that he surrendered his sword to – and was then struck by – an American Tory, loyal to the British, named Capt. Oliver DeLancey.
Whether Woodhull was fatally struck while defending himself or after surrendering also became a point of contention. Experts even question his memorable quote.
Regardless of the circumstances, historians insist that Woodhull's death helped define a crucial period around the time of the famous Battle of Long Island.
His agonizing demise – and the apparent refusal by the British to allow medical care – reminded colonists of the brutality of their rivals.
"The fact that he died as a British prisoner, no matter how that happened, was an important one," said Brooklyn College Prof. Edwin Burrows, the author of the 2008 book "Forgotten Patriots," about early American POWs.
SIDEBAR: 'It'd Be a Shame' For History to Disappear
As a history buff, Lavington Charles took pride in the marker near his Hollis home that noted where a prominent Revolutionary War general was mortally wounded.
But his civic swagger took a hit about a decade ago when the sign that detailed Nathaniel Woodhull's death vanished.
"I feel it'd be a shame for it to just disappear from the pages of history," said Charles, a retired social studies teacher at Public School 75 in Ridgewood.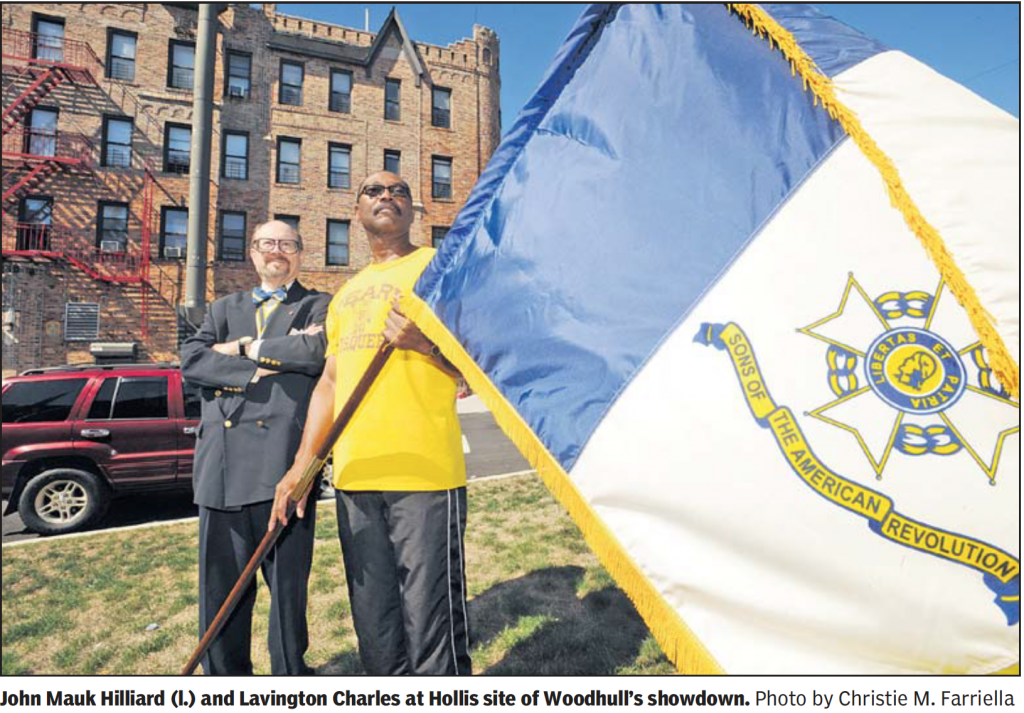 Charles, 63, emailed Queens News last month to propose the Woodhull site as part of the Queens Heritage Quest series, hoping media attention might push the borough's leaders to replace the marker.
He insisted the sign was vital to alerting passersby to the general's legacy.
"I don't know if my neighbors know why we have a Woodhull Ave.," he said, referring to a street that runs less than a block from where the marker once stood.
Charles joins a long line of patriotic citizens who have sought to pay tribute to Woodhull throughout the decades.
In 1848, a collection of Long Island notables hoping to honor the general formed the ultimately unsuccessful Woodhull Monument Association. They proposed erecting a "lofty and enduring" tower – about 300 feet high with a price tag of at least $50,000 – on the grounds of Cypress Hills Cemetery in Brooklyn, according to a group pamphlet.
Inside the tower, they suggested, visitors would marvel at busts and statues honoring Christopher Columbus, pilgrims and many figures from astronomy and politics.
"It is not only a duty, but a privilege, for us who enjoy the fruits of the heroism and love of country which distinguished our Revolutionary Fathers, to unite in so solemn and affecting a tribute to their memory," the group wrote.
It's unclear why the monument never rose. But a cemetery official noted a street at the base of a hill there is named Woodhull Way.
SIDEBAR: It's a Long Battle for War Hero Sign
Gen. Nathaniel Woodhull's story drips with drama – and so does the saga of historical markers at the site where he was captured.
The state Education Department posted a cast-iron sign on Jamaica Ave. in Hollis in 1935 to note the important moment during the American Revolution.
The inscription read, "On Aug. 28, 1776, Gen. Nathaniel Woodhull was captured and fatally wounded by the British in Increase Carpenter's house 200 feet north of this spot."
But the tribute suffered a fate nearly as dreadful as its honoree.
By 1960, the marker had become so rusted that a local church asked the state to repair it. The state suggested the church contact a civic or historical group – a match that never materialized.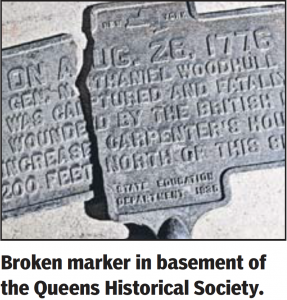 Then the sign cracked about a decade ago, and the Queens Historical Society kept it in storage. It still sits – in two pieces – at the society's Flushing headquarters today.
John Mauk Hilliard of the Sons of the American Revolution estimated that replacing the sign may cost between $2,000 and $3,000 – funds he hopes to raise.
It's not the first time that honoring Woodhull has proven tricky. Blocks away, on 90th Ave., debates once raged over a memorial cannon dedicated to Woodhull in 1904 in the yard of Public School 35, also known as the Nathaniel Woodhull School.
In 1951, the local school board became embroiled in arguments over whether Woodhull had been "wounded by a British officer . . . for refusing to say, 'God save the king,'" as the monument states.
Woodhull's moniker also graces a school in Mastic Beach, L.I., where he is buried. But perhaps the best-known site that bears his last name, the Woodhull Hospital in Brooklyn, is named not after the general but for an early landowner, Richard Woodhull.
Fifth Installment: A Crown for Queens
Published November 16, 2010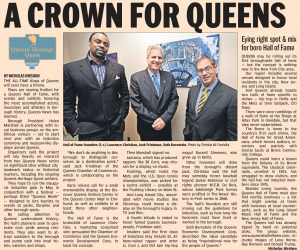 The all-time Kings of Queens will soon have a throne.
Plans are nearing fruition for a Queens Hall of Fame, with events and exhibits honoring the most accomplished actors, musicians and athletes in borough history, Queens News has learned.
Borough President Helen Marshall is partnering with local business groups on the ambitious venture – set to start next year with an induction ceremony and museum-like displays across Queens.
Organizers said the project will rely heavily on research from two Queens News series on significant sites without city landmark status or historical markers, including the ongoing Queens Heritage Quest articles.
They hope to run the inaugural induction gala in May in conjunction with a festival – perhaps titled "Queens Week" – designed to lure tourists to events at parks, libraries and other borough spots.
By calling attention to Queens' undervalued history, the hall's planners seek to generate civic pride among residents. They also want to attract outsiders to the borough and pump cash into local hotels, eateries and shops.
"We don't do anything in this borough to distinguish ourselves as a destination point," said Jack Friedman of the Queens Chamber of Commerce, which is collaborating on the project.
Early visions call for a small memorabilia display at the Discover Queens Visitors Center in the Queens Center Mall in Elmhurst, as well as exhibits in at least three other neighborhoods.
The Hall of Fame is the brainchild of Laurence Christian, a marketing consultant who persuaded the Chamber of Commerce and the Queens Economic Development Corp. to back his concept. Then Marshall signed on.
Jamaica, which has produced rappers like 50 Cent, was chosen for a display on music. Flushing, which hosts the Mets and the U.S. Open tennis championships, was picked for a sports exhibit – possibly at the Flushing Library on Main St. And Long Island City, associated with movie studios like Silvercup, could house a display on the borough's legacy in TV and film.
A fourth tribute is slated to honor famed Queens businesspeople, Friedman said.
Insiders said the first class of inductees may include St. Albans-raised rapper and actor LL Cool J and Def Jam hip-hop mogul Russell Simmons, who grew up in Hollis.
Other honorees will draw from the borough's distant past. Christian said the hall may someday honor baseball legend Jackie Robinson or civil rights pioneer W.E.B. Du Bois, whose Addisleigh Park homes were profiled in The News' History in Peril series in 2008.
The hall's founders are still ironing out the guidelines for induction, such as how long the honorees must have lived or worked in the borough.
Seth Bornstein of the Queens Economic Development Corp. described the ideal candidate as being "inspirational now for the people of Queens."
Sixth Installment: Monumental Fight
Published November 23, 2010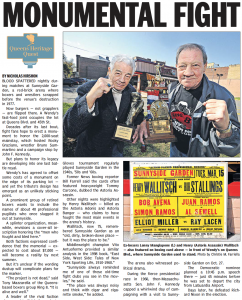 Blood spattered nightly during matches at Sunnyside Garden, a red-brick arena where boxers and wrestlers scrapped before the venue's destruction in 1977.
Now burgers – not grapplers – are flipped there. A Wendy's fast-food joint occupies the lot at Queens Blvd. and 45th St.
Decades after its last bout, fight fans hope to erect a monument to honor the 2,000-seat mainstay, which hosted Rocky Graziano, wrestler Bruno Sammartino and a campaign stop by John F. Kennedy.
But plans to honor its legacy are developing into one last battle royal.
Wendy's has agreed to offset some costs of a monument on the edge of its parking lot – and yet the tribute's design has emerged as an unlikely sticking point.
A prominent group of retired boxers wants to include the names of about 40 professional pugilists who once slugged it out at Sunnyside.
A splinter organization, meanwhile, envisions a cover-all inscription honoring the "men who fought and bled here."
Both factions expressed confidence that the memorial – expected to cost about $7,000 – will become a reality by next summer.
But it's unclear if the wording dustup will complicate plans for the marker.
"The project is not dead," said Tony Mazzarella of the Queens-based boxers group Ring 8. "It is alive and well."
A leader of the rival faction also vowed to finish the project.
"I will not let this die," said Ring 10 founder Matt Farrago. "It will happen. And it will happen very soon."
Farrago, who was Ring 8 president until what he called a "hostile takeover" by Mazzarella and others a month ago, said the monument's construction was long delayed amid debates over which names should be included.
He figured excluding the names – and instead etching the monument with boxing gloves, the Sunnyside Garden facade and a general shoutout – will prevent any hurt feelings.
The Daily News' Golden Gloves tournament regularly played Sunnyside Garden in the 1940s, '50s and '60s. Former News boxing reporter Bill Farrell said the cards often featured heavyweight Tommy Carcone, dubbed the Astoria Assassin.
Other nights were highlighted by Henry Wallitsch – billed as the Astoria Adonis and Astoria Banger – who claims to have fought the most main events in the arena's history.
Wallitsch, now 75, remembered Sunnyside Garden as an "old, dirty, broken-down place – but it was the place to be."
Middleweight champion Vito Antuofermo provided a similar analysis in the 1998 book "East Side, West Side: Tales of New York Sporting Life, 1910-1960."
"Sunnyside always reminded me of one of those old-time fight clubs you see in the movies," he said. "The place was always noisy and thick with cigar and cigarette smoke."
The arena also witnessed political drama.
During the fierce presidential race in 1960, then-Massachusetts Sen. John F. Kennedy capped a whirlwind day of campaigning with a visit to Sunnyside Garden on Oct. 27.
The Democratic nominee planned a 10:45 p.m. speech there – just 45 minutes before he was set to depart the city from LaGuardia Airport. Days later, he defeated Richard Nixon in the election.
SIDEBAR: Boro Boasted Plenty of Arenas in Boxing's Heyday
Neighborhood boxing arenas such as Sunnyside Garden once dotted the borough during agolden era that few fight fans recall today.
From the Roaring Twenties into the Cold War, Queens thrived as a hotbed for headlining scraps— though no historical markers denote the area's pugilistic past.
Long Island City boasted the Madison SquareGarden Bowl, a 72,000-seat arena where James J. Braddock secured the world heavyweight title in 1935. The bout was immortalized in the 2005 movie "Cinderella Man."
Near the Brooklyn-Queens line sat the Ridgewood Grove, which opened in 1926 at St. Nicholas Ave. and Palmetto St. The arena hosted champion boxers Kid Chocolate, Al Singer and Sandy Saddler before becoming a supermarket in 1956.
The venue reopened as the New Ridgewood Groves in 1982, with its promoter signing a20-year lease, but the arena's second stint did not last.
Southeast Queens, meanwhile, boasted Jamaica Arena, where matches were regularly televisedin the 1940s and 1950s.
Among its brushes with wrestling fame was a 1966 contest pitting star grappler Bruno Sammartino versus a 375-pound Hawaiian named Prince Iaukea.
Sammartino's young cousin Antonio Pugliese took the mat the same night against veterinarian Bill Miller, a former player on Ohio State's 1950 Rose Bowl-winning team.
Seventh Installment: App-ropriate Way to Learn About Boro
Published December 21, 2010

Head southeast from the Frank Costanza abode, pass the "Men in Black" spaceship, arrive at Charlie Chaplin's house.
Soon, a smart phone app could lead visitors from Kaufman Astoria Studios to the Marx Brothers' home in Richmond Hill to dozens of famous TV and movie sites.
That's one of many ideas being explored by Borough Hall in response to the Daily News' five-month-long Queens Heritage Quest series, which concludes today.
The series included an Aug. 31 report in which historians advocated for a TV and movie trail. That concept impressed local leaders.
"That's what started it off and got us talking," said Queens tourism director Terri Osborne.
To realize the vision, Osborne is teaming with two professors at Queensborough Community College – drama instructor Mike Cesarano and Bruce Naples, who teaches website design.
Naples, 63, is testing an in-development iPhone app named Locacious that allows users to create and distribute walking tours.
Besides the movie and TV trail, Naples said he also wants to create similar tour apps for the Queensborough campus and his hometown, Richmond Hill.
"The beauty of that is people in the neighborhoods could create their own," he said.
The same technology could be applied to a trail of "ghost signs," or faded ads on brick buildings, which were also featured in the Queens Heritage Quest articles.
The series began in August after Queens' new borough historian, Jack Eichenbaum, said he wanted to be an "educator" rather than champion efforts to landmark buildings.
His remarks sparked debates over the historian's role and how Borough Hall could generate civic pride and lure tourists by honoring significant sites.
Activists proposed erecting historical markers and creating podcast-linked trails.
Apparently, Borough Hall was reading.
Osborne said she is considering a tribute for another series site – where television was unveiled with a milestone broadcast from the 1939 World's Fair in Flushing Meadows-Corona Park.
Osborne and Eichenbaum are also backing visions for a Queens Hall of Fame lauding the borough's greatest residents, moments and places.
Laurence Christian, the hall's executive producer, hailed the series that "brought to light much of the great history that goes unrecognized."
Christian said he wants to honor Queens' film past with a "Men in Black" installation close to the New York State Pavilion, a key plot device in the 1997 film.
Borough President Helen Marshall, a former teacher, stressed the educational impact of historical markers and tours.
"You have a certain feeling of knowledge," she said. "Many people [who grew up locally] are grownups and don't realize what's been next to them all along."
SIDEBAR: Tribute to Glendale Lanes Right Up His Alley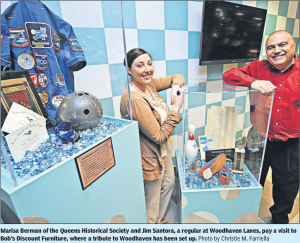 It's a strike for Queens history.
Two years after a historic Glendale bowling alley closed, the building's new tenant has unveiled a memorabilia display to honor Woodhaven Lanes.
That caps an effort spurred in 2008 by the Queens News' History in Peril series, which profiled the alley and other significant sites that were never made city landmarks.
The success of the Woodhaven Lanes campaign heartened preservationists, who hope for similar successes from the News' Queens Heritage Quest series, which concludes today.
The alley's latest occupant, Bob's Discount Furniture, created a plaque honoring the site as home to the nationally broadcast TV game show "Jackpot Bowling" in 1959 and 1960.
"We've never really gone into a location that had this kind of history," said chain owner Bob Kaufman, whose ubiquitous TV commercials have made him a minor celebrity.
The tribute near Bob's café – which offers free goodies to visitors – boasts a 1980 bowling trophy, a bowling pin, a small section of a lane and a pair of red-and-blue, size-7 shoes.
Affixed to the case is a sign that heralds Woodhaven Lanes as "a gathering place that provided fun, support and stability for generations of families and friends."
The 60-lane alley opened in July 1959 and closed in May 2008.
"You've got to be cognizant of the specialness of the place," said Kaufman, who recalled bowling while growing up in Connecticut. "Clearly, it had a warm spot in lots of people's hearts."
Also on display is a Brunswick Imperial bowling ball loaned by Woodhaven regular Jim Santora, who lost battles to save the alley and protect it as a city landmark.
Santora, 58, of Middle Village, said he used the ball – a memento of his late father Richard – on his last roll at Woodhaven Lanes.
"I figured I'd preserve his memory. He loved bowling," Santora said. "It's a nice remembrance of a place where people had a good time and called their home away from home."
Marisa Berman of the Queens Historical Society praised Bob's for honoring the alley's legacy. "Even though the history was lost, it wasn't forgotten," she said.
The History in Peril series scored its first triumph in January when another profiled site, the Ridgewood Theatre, won protective landmark status from the city.
Landmarks Chairman Robert Tierney hailed The News for its "crusading" report on the Ridgewood, the oldest continuously operated moviehouse in the country until its 2008 closure.
SIDEBAR: Fighting for Sign to Honor Lost Boxing Arena
Queens News readers are stepping into the ring to back a historical sign honoring Sunnyside Garden, a red-brick arena that long hosted boxing and wrestling.
After the venue was featured in the last installment of the Queens Heritage Quest series, fight fans replied with personal tales of the borough's pugilistic past.
For John Busso, 73, of Jackson Heights, the article brought back memories of his late brother and the former lightweight contender, Johnny Busso, who died in 2000.
Busso won 42 of 51 pro matches during a career that began with nine fights at Sunnyside Garden, which also saw a campaign stop by John F. Kennedy in 1960.
Long Island Rep. Peter King, who grew up nearby, said the Queens News story, "certainly captured the mood and spirit of Sunnyside."
The article covered several other unheralded neighborhood boxing arenas in Queens. Lavington Charles recalled his father-in-law, Bob (Killer) James, sparred in the 1940s and 1950s at Jamaica Arena on 144th Place.