By Nicholas Hirshon
Published February 7, 2014
Wall Street Journal
Along Route 447 in the Pocono Mountains is a ribbon of retro lampposts topped by squares of ivory, orange, blue, and turquoise, fading away like panels of a Rubik's Cube that was left out in the sun. They are bulky and heavy, rusty and dirty.
No matter to Mitch Silverstein.
"I would make space now if I could get a hold of one," said Mr. Silverstein, 55 years old, of Nyack, N.Y. "It reflects our mortality. You're grabbing something that reminds you of your youth and preserving it."
Half a century ago, these lampposts dotted the grounds of the 1964-1965 World's Fair in Queens, an array of whimsical exhibits and rides spread across 646 acres that would become Flushing Meadows-Corona Park. After the fair, a set of the luminaires, as they are known, was shipped 100 miles to Analomink, Pa., to welcome honeymooners to the Penn Hills Resort.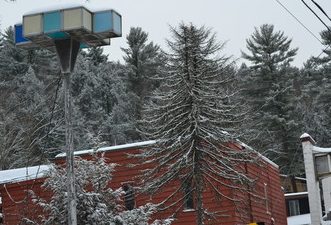 With the 50th anniversary of the fair's opening this spring, online retailers are peddling books and trinkets from the fair for baby boomers high on nostalgia. But ardent collectors such as Mr. Silverstein have their eyes set on the luminaires at Penn Hills, which closed several years ago and recently transferred into new hands.
"They were just totally different from any other streetlight at the time," said Bill Cotter, co-author of the new book "Images of Modern America: The 1964-1965 New York's World's Fair."
The group that owns the property, Penn Resort Investments LLC, would prefer to keep the landmark lampposts at the 61.7-acre resort and sell the place as a whole, said one of the company's principals, David Keller. But Mr. Keller, who said the group turned down an offer of $10,000 for the 10 luminaires on the grounds, said he and his partners could be convinced to sell the lampposts for the right price.
A spokesman for the Queens Museum, which is housed in the former New York City pavilion from the 1964-1965 fair, said the museum isn't interested in buying the lights but would be open to accepting them as a donation.
Built by Westinghouse, the luminaires came in 76 modular configurations, from only four cubes per post to as many as 16, in vibrant colors like red, yellow, violet, coral, olive green, and chartreuse, according to renderings and fair brochures. Each translucent panel fit into a metal framework, and below them was a sound speaker.
After the fair closed, the luminaires could be found at salvage yards outside the fairgrounds, Mr. Cotter said. They resurfaced at the Villa Vosilla resort in Tannersville, N.Y.; the Orange County Fairgrounds in Middletown, N.Y., and as far away as the Oklahoma State Fairgrounds.
A 1978 TV commercial for Penn Hills played a romantic jingle—"If you're in love, you'll love Penn Hills"—over scenes of biking, dancing, tennis, horseback riding, and a large swimming pool with two luminaires nearby.
But the ranks of luminaires, which numbered about 1,800 at the world's fair, have dwindled to no more than 200 today, by Mr. Cotter's estimate.
The lamps' 16-inch plexiglass cubes make them fragile and clunky to collect. Still, graphic designer Doug Seed, 62, managed to save four when Canobie Lake Park in Salem, N.H., scrapped most of them in 2009.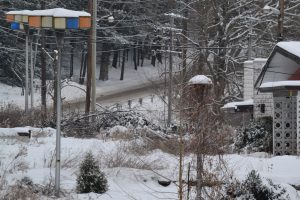 "You can't not remember the lampposts," said Mr. Seed, who went to the fair in each of its two summer seasons. "Where else were you going to see these things?"
Mr. Seed eventually gave away two lamps to friends he met on a world's fair message board, furniture shop owner Gary Holmes, 60, of Wurtsboro, N.Y., and Long Island contractor John Piro, 64.
That made three luminaires for Mr. Holmes, who previously salvaged one from a shuttered restaurant in Liberty, N.Y., and another from a bungalow community near Wurtsboro.
"I'm still kind of a world's fair nut," Mr. Holmes said. "I'm interested in just making sure these things don't get lost or totally destroyed. Even though there are hundreds of these around, you should try to save a few because you never know what will happen to them."
Mr. Piro, meanwhile, worked his luminaire into the deck in his backyard in Westbury, rewiring the lights to illuminate his barbecues on summer nights and connecting the speaker to a radio.
"People come over and they're mesmerized by it," Mr. Piro said proudly. "It's transcending—the lights and the shape. It's absolutely beautiful. Every night I go out and turn it on."
Mr. Cotter, the author, admitted that he would be in the market for a Penn Hills luminaire himself if not for the long haul from his home in Los Angeles to the Poconos, and the inevitable fight that would ensue with his wife over cluttering the house.
"Probably going to be a hard sell," he said with a laugh, "but it's awful tempting."