By Nicholas Hirshon
Published August 13, 2012
The New York Times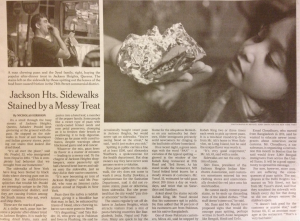 On a stroll through the busy streets of Jackson Heights, Queens, Sahadev Poudel kept gesturing at the ground with disgust. He stopped on the sidewalks in front of sari boutiques and Indian grocery stores, pointing out stains that looked like dried blood.
"It's all over the place," said Mr. Poudel, 33, who immigrated from Nepal in 2004. "This is completely bad behavior that we brought from our hometown."
The sidewalks of New York have long been blotted by black blobs where chewing gum met its demise. But the reddish-brown splotches that trouble Mr. Poudel are seemingly unique to the 74th Street commercial district, and they are causing friction among the South Asians who eat, work and shop there.
These are the marks of paan.
At a dollar each, paan has become a popular after-dinner treat in Jackson Heights. It is made by folding dried fruits, nuts and pastes into a betel leaf, a member of the pepper family. Some people like a sweet type of paan with candy-coated fennel seeds and rose petal preserves, chomping on it to freshen their breath or swallowing it to help digestion. Others go for paan with cured tobacco, despite warnings about blackened gums and oral cancer.
Whatever the mix, paan loses its flavor in a matter of minutes — leading to a messy end. To the chagrin of Jackson Heights shopkeepers, some passers-by spit half-chewed betel leaves and saliva onto the sidewalks, just as they did in their native countries.
"It's now becoming an icon of Jackson Heights," said Mr. Poudel, who runs an Internet radio station aimed at Nepalis in New York.
Paan dyes the saliva a reddish brown, giving it a bloodlike hue that may, in fact, be enhanced by traces of blood, since chewing tobacco can cause gums to bleed.
"It's disgusting," said Tala Haider, 16, who grew up in Pakistan and lives in Flushing. He said he occasionally bought sweet paan in Jackson Heights, but would never spit on sidewalks. "You're seeing blood on the street," he said, "and it just makes you sick."
Spitting in public carries a fine of at least $200, said Alexandra Waldhorn, a spokeswoman for the health department. But shop owners say they have never seen anyone receive a violation.
Once paan spittle hits the sidewalk, the city does not come to wash it away. Kathy Dawkins, a spokeswoman for the Sanitation Department, said it did not remove stains, paan or otherwise, from sidewalks. But she promised that the city would "pay closer attention" to the issue.
The stains regularly set off debates in Jackson Heights, which attracts visitors from a mix of paan-chewing countries like Bangladesh, India, Nepal and Pakistan. Many are quick to lay the blame for the ubiquitous blemishes on any nationality but their own. Older immigrants privately scold newcomers for clinging to the bad habits of their homeland.
On a recent night, a green neon sign with the word "PAN" — a variation of the typical spelling — glowed in the window of the Kabab King restaurant at 37th Road and 73rd Street. At his stand inside the restaurant, Abdul Malek folded betel leaves for a steady stream of customers. The restaurant's manager, MD Yousuf, estimated he sold paan about 100 to 200 pieces of paan each week.
Asked about the stains outside Kabab King, Mr. Malek denied that his customers spit in public. He then added that 95 percent of his customers are from Pakistan, not his native Bangladesh.
One of those Pakistani customers, Mirza Ali, said he stopped by Kabab King two or three times each week to pick up sweet paan. It is a two-hour round-trip drive from Mr. Ali's home in West Babylon, on Long Island, but he said the unique flavor was worth it.
"It's very good enjoyment," Mr. Ali, 43, said with a smile.
Sidewalks are not the only victims of paan.
Shiv Dass, president of the Jackson Heights Indian Merchants Association, said customers sometimes entered his two clothing stores and unintentionally drooled the red juice onto his merchandise.
He cannot easily remove paan stains, so he ends up discarding most of the soiled clothes. "That stuff doesn't come out," he said.
Mr. Dass and Mr. Poudel have proposed signs that would discourage paan spitting, perhaps written in South Asian languages like Bengali, Hindi and Urdu.
Emad Choudhury, who moved from Bangladesh in 1978, said he wanted to educate newer immigrants about American social customs. Mr. Choudhury, a car salesman, is organizing a convention this month in Boston that he said would draw 5,000 Bengali immigrants from across the United States. It will be a good opportunity to spread his message.
For now, however, store owners are suffering the consequences of paan spittle. The employees at the Delhi Heights restaurant on 74th Street, not far from Mr. Yousuf's stand, said that they scrubbed the sidewalk with bleach every day but that doing so did not always remove the stubborn spots.
"It doesn't look good for the customer or anyone else," said Suman Oli, 27, an assistant manager at the restaurant. "That's a very bad habit."